The Registrar's Message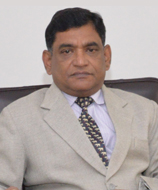 The characteristic of an ideal educational institution is to provide quality education. It should consist of a progression of enhancements each raising the individual to a higher level of responsiveness, appreciative and affinity leading to wholesome development of an individual and thereby contribute to the productive development of the state and the country.

Our office is responsible for maintaining academic records for all students who have ever attended The Motherhood University, Roorkee. We are also responsible for registration, course management, classroom scheduling, grade posting, Student Evaluation of Instruction (SEI), commencement certification, degree audits, transfer credit evaluation, athletic eligibility certification, student data reporting and research, testing, fee assessment and residency. To accomplish this, we work closely with faculty, staff, and students.

I hope you will take a few minutes to look around and gratify let us know if we can be of any help. Just contact us at www.motherhooduniversity.edu.in or send the mail to registrar@motherhooduniversity.edu.in

My best wishes for those who seek to be a part of this University which is on a mission to strive for all round development.